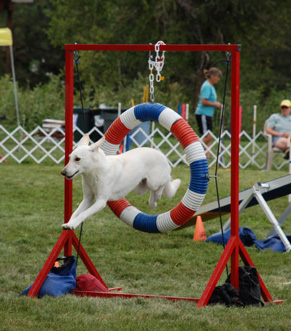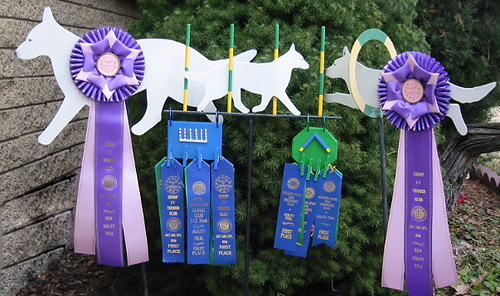 Standard and Jumps with weaves awards Mickee's titles NA. NAJ.
Yard Art and ribbon holders made by my friends.

Standard class

Jumpers with weaves class
FLATWORK - FOUNDATION FOR AGILITY
BUILDING THE CANINE ATHLETE - STRENGTH, STRETCH, ENDURANCE & BODY AWARENESS EXCERCISES DVD
Highly recommend.
FEISTY FIDO - HELP FOR THE LEASH REACTIVE DOG, 2ND EDITION i-CLICK CLICKER
Get the ability to leash-walk your dog around others, whether it's down the sidewalk or at the vet clinic, knowing that your dog will walk politely by another dog, rather than causing a scene.
BONES WOULD RAIN FROM THE SKY - DEEPENING OUR RELATIONSHIPS WITH DOGS
Shows us how to find a deep connection with another being and to receive an incomparable gift: a profound, lifelong relationship with the dogs we love.
OH BEHAVE! - DOGS FROM PAVLOV TO PREMACK TO PINKER
Jean tackles issues ranging from the nature vs. nurture debate, to the role of dominance in domestic dogs, to what are the most effective ways to train dogs. Along with her other best selling books, Oh Behave! is destined to be a classic in the literature on dog behavior.

Go Have fun with your dog.!
AGILITY TRAINING FOR YOU AND YOUR DOG - FROM BACKYARD FUN TO HIGH-PERFORMANCE TRAINING, SUCCESS WITH ONE JUMP DVD SET
CLEAN RUN MAGAZINE: FOCUS ON HANDLING
Mickee
Home
Funstuff
( This is a good DVD that shows what motivators we use. How we start contacts and weave poles.)